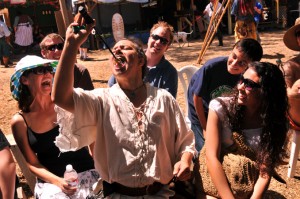 Koroneburg Old World Renaissance Festival's lively, interactive representation of daily life on the fictitious estate of Baron Von Lauffer located along the Rhine River (i.e., Santa Ana River) between Mainz and Strasbourg during the Renaissance era (1450-1600 A.D.) offers something for everyone.
Thrill-seekers – live, full-contact jousts, military battle re-enactments, sword fights and cannon, archery and pyro-juggling demonstrations.
On the lighter side – comedians, magicians, town folk, a band of singing, rogue pirates and "Washing Well Wenches" performing on stages and strolling randomly throughout the grounds playfully interacting with guests, plus a daily, "all-hands" parade, Koroneburg-themed characters and personal appearances by Baron Von Lauffer himself.
Kids of all ages – "Ship 'o Games" section with fun-for-all-ages activities – a giant swing, gigantic rocking horses and towering strike; hand-pushed, wooden carousel; and dunk tank, veggie darts and stick ball.  Moreover, youngsters can experience farm animals up-close-and-personal at the Petting Farm. The ever-popular tavern area bathtub is another kid pleaser.
History buffs – unprecedented access to noted intellectuals of the period like Galileo and Nostradamus, who will espouse their views and answer festival-goers' questions about timely current (and future) events, science and philosophy.  In addition, 13 re-enactment guilds depicting the lifestyles, culture and "technology" of the era – from medicine and weaponry to everyday household "conveniences" and handcrafts.
Techno-nerds – arguably the most important invention of modern history, the movable-type printing press (the iPad of its day) played a key role in the development of the Renaissance period and beyond.  Visitors to Chap Stand Books will see a working Albion press, a mid-19th Century, iron-framed printer that replaced the old wooden presses, facilitated the first pocket-sized publications and introduced the concept of disposable printed materials.
The way it was – Festival-goers will sample homemade breads baked as they would have been made in 1500 A.D. – in a beehive oven – and try their hands at crafts like weaving, leather-crafting and blacksmithing.